Featuring Artists:
Funk Lab
Twin Shape
Brandon Battaglia
DJ Apple
Broly
Predator
ManipulatioN
NeedName
Joseph Anton
Gian Carlo
_________________________________
Funk Lab started in the mid nineties as a mission to create funky electro beats now has become a staple of the funky/electro Florida sound. There was a blending and fusing of funky breaks and electro beats which later became known as the Funk Lab. With influences coming from their efforts as DJs within the breaks community, the two had been immersed within the sound that they had come to love. With a diverse back catalog ranging from Florida style funky breaks to the darker, moodier electro, the Funk Lab has engaged a variety of listeners from both the US and abroad.
As soon as the first release was available on vinyl, licensing requests began from such labels as Street Beat, Adrenalin, Journees, Zazoo, Pioneer, and others. Tracks became staples of electro and funky breaks mix compilations as well as backing music for MTV programming and EA's "Need For Speed IV High Stakes" for the Sony Playstation. The Funk Lab was breaking new ground and finding new fans within a diverse universe of media.
During the early years of the Funk Lab, the idea was tossed around to do a live performance, bringing the fans and artists together, exploring the music, re-editing, re-mixing, and re-shaping the tunes that had drawn them in. The first several shows were enough to propel several years worth of weekend touring, playing from San Juan, Puerto Rico to Vancouver, Canada with gigs in most major cities friendly to dance music. These Live performances drove the inspiration to continue to push the limits of what could be done with live sequencing. Utilizing two MPC2000's, Zip Discs and other various hardware at the shows became the staple of the live Funk Lab experience. Manipulating the sequences, the audio, the music with outboard effects and creative mixing allowed the shows to become a life of their own. No two were ever the same. Ever.
Funk Lab continues to perform as a live pa, deconstructing, rearranging, and manipulating the audio from the past, present, and future of FLR.
In 2008 Funk Lab was nominated for the Beatport Music Awards along with DJ Icey, 30 Hz, General Midi, Freestylers, Plump DJ's, Soul of Man, The Rogue Element, and Agent K.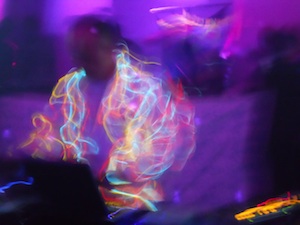 VIDEO: BRIGHT LIGHTS
VIDEO: FUNKLAB_2011
EXTERNAL LINK: FUNK LAB @ SOUNDCLOUD.COM
EXTERNAL LINK: FUNK LAB @ FACEBOOK.COM
EXTERNAL LINK: FUNK LAB @ iTUNES
EXTERNAL LINK: FUNK LAB @ BEATPORT
FUNK LAB: Press Kit Download
_________________________________
Brandon Battaglia is a product of New York and its rich history in House and Undergound Dance Music. Brandon drew inspiration from crawling around the city late nights, hitting up clubs like The Tunnel, Twilo, Centro Fly, Limelight, and Exit to name a few. Shortly after, he relocated to Tampa, Fl and realized that there was a great need to bring that raw NY energy to the clubs. He soon met fellow New Yorker and veteran DJ Apple who was doing just that. They connected on a deep level and Formulated "First Contact", in which they perform together creating unique blends of Tech House, Techno, Minimal and Deep House in order to evolve dance floors to an intergalactic state. Together they promoted for the Lobby, St. Pete and grew their network. They built up the House Haven night at Café Alma into well respected and incredibly fun party for the locals. Brandon also has radio experience on Zentripziteez 88.5fm, Tampa and Digital Response Radio. As a producer, he is set to make waves with his debut release on Funk Lab records with his "Night Rider", with a remix by Apple. Also look for releases under First Contact where the tracks with that spacey Techno driving groove. Brandon is also remixing DJ Apple's "The Animals" which will be a Minimal Techno Stormer. The past year has been kind to Brandon as he has become a staple in the Tampa House Music scene racking up several DJ bookings such as AquaBoogie 2012, Sunkissed, "Blast Off" Tabu Ultra Lounge, Casey's, the Lobby, The infamous Skyway parties, Club Green, and the Sake Bomb benefit for the earthquake in Japan.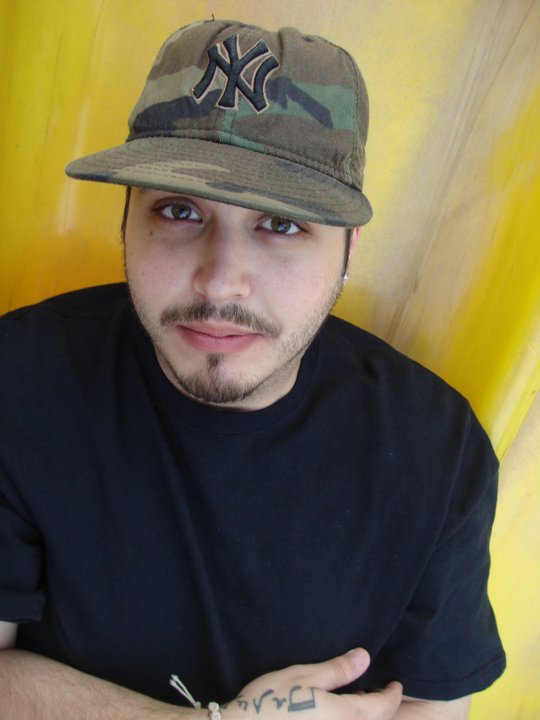 _________________________________
The Bayou Bros formed back in 1995 by DJ Phenix W. Crowley and DJ Elmo D. Stepehens. Together they produced many tracks that found their ways in the heart and soul of the electro breaks scene in the mid 90's. During that time they also collaborated with many other producers in the breaks community, which gave way to numerous remix projects and 12 inch EP's. The Bayou Bros became a fundamental player in the development electro breaks sound while representing the Southeastern United States. Their sound can be heard in the late night clubs, electro breaks compilations, and mix tapes of the day. Their name is known by anyone that enjoyed the electro breaks sound. With roots in Florida, Detroit, and Louisiana, the Bayou Bros utilized the diversity of their history to bring their tightly woven beats to the masses.
EXTERNAL LINK: BAYOU BROS @ SOUNDCLOUD.COM
EXTERNAL LINK: BAYOU BROS @ FACEBOOK.COM
_________________________________
DJ Apple is one of a kind. His style is as broad as they come... you can expect to hear a set that revolves around percussive tribal house and will include some bangin hard house, electro/breaks and some drum & bass <on occasion>. His style keeps the crowds emotions changing so that he may bring life to the party. DJ Apple has held many residencies, some including: C.P.A., Grove, and Underground Cafe and have been major hotspots in the Tallahassee area for electronic music. He also has played as a guest at many different clubs and one offs. Apple rejoins Funk Lab Records with his new release: "The One and Only."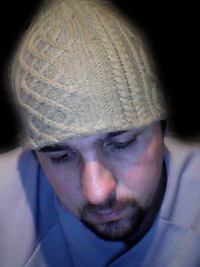 EXTERNAL LINK: DJ APPLE @ SOUNDCLOUD.COM
EXTERNAL LINK: DJ APPLE @ FACEBOOK
_________________________________
Broly got into the EDM scene at a very young age. Hestarted producing music at about the age of 12 or 13. Later, he began working on DJing at about 16 and picked it up very quickly. With in a year he already had a residency at Darkside After Hours in Dallas, TX.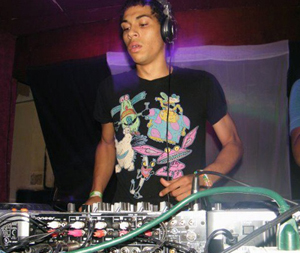 _________________________________
Joseph Anton developed a love of World Music, introduced to him by his father when he was as young as 5 years old. Growing up in Northern Portugal, like many children of the 80s, he found a passion for early electronic music which would inspire him for years to come.

Now based in South London, Joseph Anton lives and breathes music, devoting most of his time to experimenting with new music technology, production and sound design. A regular and longstanding DJ in bars and clubs around London, Joseph Anton consistently delights the crowd with his eclectic taste and sets that are filled with wit and surprise. From krautrock to techno, breakbeats to dubstep, disco to house, Joseph Anton's talent lies in juxtaposing the bizarre and the sublime.
Making the transition from DJ to producer has been an organic progression for Joseph Anton, and his debut collection of atmospheric, dance-floor friendly tech-house tracks have been created very much with the DJ in mind. Playful, bouncy, tribal, jazzy and exciting – each track tells a story and sets a scene with a definite beginning, middle and end.
As an artist, Joseph Anton has a distinctive style that lends itself to all genres of electronic music, allowing him to blur the boundaries between techno, house, electro and breaks. He pays tribute to retro sounds, grass roots instrumental, global music and futuristic technology – creating a unique, underground sound that is both classic and of the moment.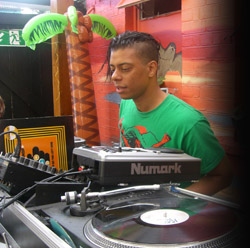 _________________________________
TwinShape is a Live project centered around Downtempo and Trip-Hop, but within you will find a blend of elements borrowed from genres such as: Glitch, Dub, DnB, and Psy. The feel ranges between bright and melodic, dark and mysterious, to lush and atmospheric. The sound is constantly evolving and will keep you guessing without disappointment. Choosing to let the music speak for itself, TwinShape performs live from behind a mask that can change from show to show, pulling listeners into an audio/visual journey of his creation.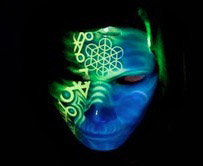 EXTERNAL LINK: TWINSHAPE @ FACEBOOK.COM
EXTERNAL LINK: TWINSHAPE @ SOUNDCLOUD.COM
EXTERNAL LINK: TWINSHAPE @ BEATPORT.COM
_________________________________
Gian Carlo grew up in a eclectic lifestyle absorbing various cultures giving him a diverse background in music. Known for his lush but driving progressive sound, Gian has been pushing the tougher side of Progressive and Tech house to the techier sounds of Trance from top producers internationally. The formula for his productions is a fusion of techy, dark, tribal, and melodic using hard driving bass lines and complex beat patterns ranging from hypnotic, energizing, and dynamic all at the same time.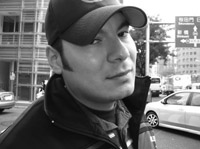 EXTERNAL LINK: WWW.GIANC.COM
EXTERNAL LINK: GIANC @ SOUNDCLOUD.COM
Gian Carlo - Autorun(Original Mix) by Gian Carlo
_________________________________
ManipulatioN's musical trip started before he could remember his own thoughts. Now most of his day is filled with understanding sound. Music has been his main focus and dedication for the past 14 years but yet finds that he is growing to love it more every day. His goal today is to provide as much good music possible, invite our world to travel through unforgettable places and expose new sound- waves to everyone willing to let go, enjoy and be the unimaginable. The musical journey started in the Azores Islands where he got a lot of ideas for what he does now, but moving around and learning about our globe has fueled his nspiration for making it one more step.
Growing up listening to albums from the past 50 years made him appreciate the Goa Trance genre, its complexity, the things it can do with you and the things you can do with it. He was hooked the first time he was exposed to it. This frame of thought that promotes Incredible Complex Music, Social Diversity, Acceptance, Harmony, Ours and Natures Well Being, Love and Unity is not something he could ever turn my back too. Goa/Psychedelic trance for him and many, is far more than just a genre of music, and if you are reading this... chances are, you know it too. ..If there's a sound, there can be music... if there is music there is dancing and the world will keep spinning as long as we keep stomping.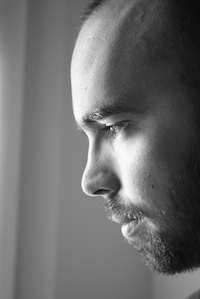 _________________________________
House Wrecka quickly rose to the top as an icon in Chicago style hardhouse, House Wrecka has a unique sound with his trademark hardhouse -vs- funky breaks style. House Wrecka (aka C4) leads the Hallucin8Trax outfit and has been delivering the goods with three current House Wrecka 12" singles available. His work includes the debut release "Booty Shaker" followed up with "Wreck It" and the latest release "Inferno" as well as numerous remixes for Jackal & Hyde, DJ Monk VS. the Track Mack, and Mark V. & Poogie Bear. With additional releases slated for Hallucin8 Trax and Funklab you can expect to see even more bangin hardhouse funk. Coming soon is the 12" single "House of the Unholy" and the House Wrecka album CD.
Clayton now works on sculpting metal and his creations have made him rise to the top of the art scen around Florida. His art can be seen in gallaries, art shows, and on display around Pinellas County including the piece, "Heart of Pinellas" which can be seen from Park Blvd as well as many others around the area. Think abstract and sea life meets banging electro hard house, only less noise and more color.
See: www.claytonswartz.com
STATUS: RETIRED
_________________________________